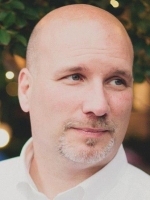 John was born and raised in Jackson, Mississippi. Upon completion of high school, he attended Hinds Community College before transferring to Samford University in Birmingham. John graduated from Samford University in 1993 with a Bachelor of Arts in History and a second major in Biology. After graduation, John went into the corporate world working for State Farm and Automatic Data Processing. He also taught high school history for two years at Pelham Christian School. It was during this time that he realized God had bigger plans for him.
John served four years as Youth Director at Avondale United Methodist Church in Birmingham and during this time he was pursuing the Ministerial Candidacy track of the United Methodist Church. In June of 2002, John was appointed as Student Local Pastor to Chapel Hill UMC in Decatur and in the fall of 2002 began his seminary studies at Memphis Theological Seminary. John was appointed to Latham United Methodist Church in January of 2005. He graduated from Memphis Theological Seminary with a Master's in Divinity in May of 2006. John then started a new church in the Huntsville area called "The Bridge" in June of 2007. He began his ministry to Union: The Church at Chelsea Park in June of 2010.  John and his family moved to Alexander City and began ministry at Flint Hill Church in June of 2013.
John believes that the ministry God has called him to and the ministry of the Church is stated very plainly by Jesus in the Great Commission…"Go therefore and make disciples of all nations, baptizing them in the name of the Father and of the Son and of the Holy Spirit, and teaching them to obey everything that I have commanded you." Matthew 28:18-19.
John is very active in youth events at Camp Sumatanga where he met the love of his life in Jill. They were married in May of 2006 in a beautiful ceremony beside the lake at Camp Sumatanga. They have five children, Erica Spickard (Tim), Jackson Hedges, Noah, Graden, and Sophie Hill and enjoy spending time together hiking and camping.